Men's Skincare Tip: Especially Good for the Bearded Blokes!
+ recipe!
For the men out there looking for natural skincare tips, you can't go past considering tallow as a moisturiser, particularly if you have a beard!
Beef tallow (rendered beef suet - the raw fat from around the organs of the animal) is incredibly good for human skin. But in it's pure form it doesn't make for a practical moisturiser because it can become really firm (more so in cold climates/cooler times of the year, or even simply being kept in an air conditioned environment!) and therefore hard to spread.
If you ever get tallow on your hands while making it from suet/other fat, or while cooking with it, and you rub it into your skin you'll realise how nice it feels and you'll probably notice it doesn't leave your skin feeling greasy afterwards. Compared to how coconut oil feels on the skin, there's a big – and welcome – difference!
Tallow is loaded with vitamins A, D & K and antioxidants. One of which is vitamin E, known to promote rejuvenation of the skin by fighting free radicals that can cause wrinkles.
Vitamin E has also been shown to prevent the breakdown of collagen. The intake of natural vitamin E products helps against collagen cross linking and lipid peroxidation, which are both linked to aging of the skin.
Vitamin D has the ability to restore vibrancy in skin and induces the expression of antimicrobial peptide genes in human skin and plays a significant role in preventing opportunistic infections.
Tallow and sebum (the oil in human skin) share many of the same lipids or fats in similar concentrations. Many believe that it is this similarity that allows tallow to absorb deep within the layers of the skin.
Tallow is an intense moisturizer that assists in retaining the skins natural moisture. It replenishes the building blocks of our skin that decrease with age.
It's non-greasy, won't clog your pores, is long-lasting and 100% natural. It prevents dryness all day and only needs to be applied once.
To make it more use-able it's recommended to add 1-2 other ingredients in, and whipping it up with some air in there also makes it easier to achieve good coverage with.
It's actually really easy to make a soft, silky, whipped tallow cream for the body. It's also incredibly economical because it goes a long way and lasts a surprisingly long time. Especially if it's applied while skin is still slightly damp after having a shower or bath.
Applying it to warm damp-ish skin helps it spread further, so you can really use the 'less is more' principle with it which is a bonus!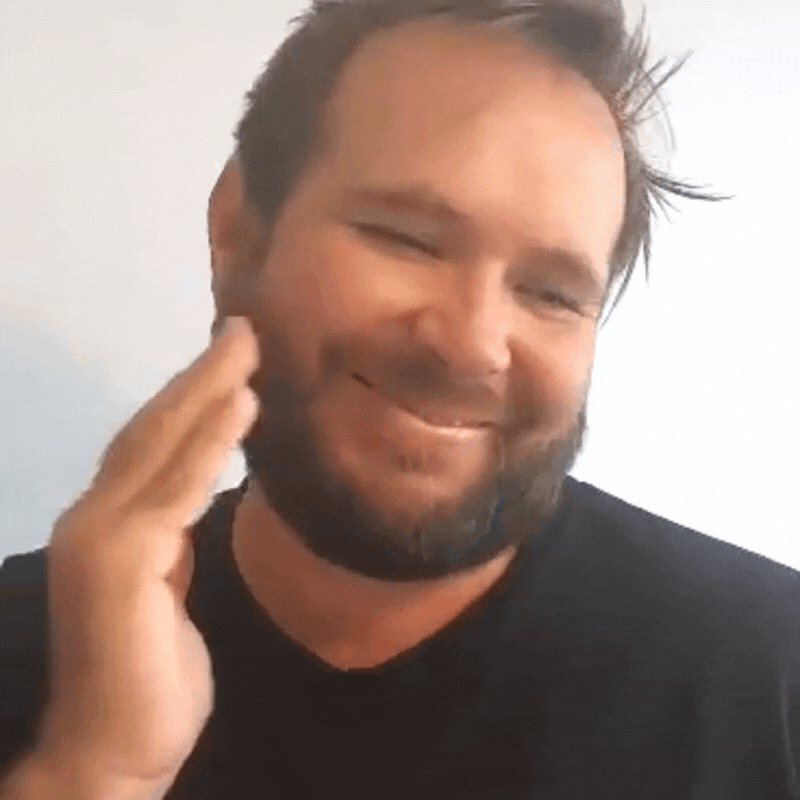 Clint uses tallow cream on his face and finds it the best moisturiser for his beard hair, even compared to natural beard oils he's bought (they're plant-based).
And because it's a more 'manly' kind of mixture because it's made from animal fat, it's more appealing! haha
Of course tallow cream is a great skincare option for men and women, but many men may not realise how good it is for their skin and their beards. Those using expensive beard products could be wasting their money; tallow cream is usually cheaper to buy but it's even cheaper (and easy!) to make at home, either with raw suet rendered into tallow (see video demo here) or from buying grass-fed tallow and mixing it with a few simple ingredients.
Keen to try making your own whipped tallow body cream?
Here's a quick video tutorial!
I hope this info has been helpful to you and your family!
Aimee Clark
Primal Health Coach
Disclaimer:
This disclaimer governs your use of Primal Influence website and blog. By using this website, you accept this disclaimer in full. If you disagree with any part of this disclaimer, do not use this blog, this website or any affiliated websites, properties, or companies. We reserve the right to modify these terms at any time. You should therefore check back periodically for changes. By using this website after we post any changes, you agree to accept those changes, whether or not you have reviewed them.
All information and resources found here are based on the opinions of the author unless otherwise noted. All information is intended to motivate readers to make their own nutrition and health decisions after consulting with their health care provider. I am not a doctor, lawyer, psychiatrist, therapist, or your mother, and I don't play one on the internet.
The author of this site encourages you to consult a doctor before making any health changes, especially any changes related to a specific diagnosis or condition. No information on this site should be relied upon to determine diet, make a medical diagnosis, or determine treatment for a medical condition. The information on this website is not intended to replace a one-on-one relationship with a qualified health care professional and is not intended as medical advice.
NO information on this site should be used to diagnose, treat, prevent or cure any disease or condition.
None of the posts and articles by Primal Influence may be re-printed without express written permission of the author. Primal Influence will respond to written requests to re-print parts of posts and excerpts/quotes (10% or less) may be reprinted with attribution as long as all links are left intact.